UFC Undisputed 3 is a mixed martial arts video game that is published by THQ.  The game will be available on both the XBOX 360 and the PlayStation 3 on February 14th, 2012 in the United States and February 17th, 2012 in Europe.
[two]
UFC Undisputed 3 Cover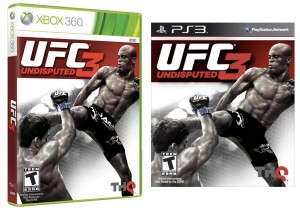 [/two] [two_last]
Community Websites
[/two_last]
UFC Undisputed 3 Videos
Below are a few videos that go over the development process of UFC Undisputed 3, a few trailers and some new features that have been added into this year's game.
[two]
Debut Trailer
[/two] [two_last]
Demo Trailer
[/two_last]
[two]
Career Mode

[/two] [two_last]
Audio Improvements
[/two_last]
Notable New Features In UFC Undisputed 3
The most anticipated feature that will be added to UFC Undisputed 3 is the inclusion of PRIDE.  There will be 30 exclusive pride fighters included in the video game and gamers will be able to play with their fighter with PRIDE rules.  Other notable additions include the revamped submission system, ground sways, stat equalizer and brand new entrances.
Order UFC Undisputed 3
By ordering UFC Undisputed 3 through amazon.com you will receive a $10 amazon gift credit and fast shipping.  You will also get the Ultimate Knockout Artist Boost Pack which allows you to build and customize your own knockout artist.
[poll id="5″]