After nearly 2 months of voting, starting with 64 players, the Madden 25 cover vote has finally come to an end.  Over 40 million votes were cast in this year's competition with the winner being announced on ESPN's SportsNation show live.  Old School fans will be happy to find out that former Lions running back Barry Sanders will be on the Madden NFL 25 cover.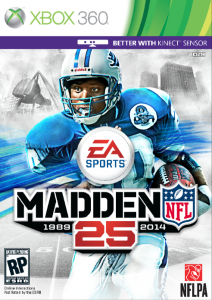 In the past, fans would do everything they could do avoid their favorite player making the cover of Madden due to the "Madden Curse."  However, anyone who watched the NFL last year knows the curse has now been lifted after Calvin Johnson Jr. (the Madden 13 cover athlete) destroyed all sorts of records.
Barry Sanders was a 3 seed in the "Old School" side of the bracket, while Adrian Peterson was a 2 seed in the "New School" side of the bracket. Sanders knocked off Ron Rivera, Marcus Allen, Ray Lewis, Joe Montana, and Jerry Rice on his way to the finals.  Peterson knocked off Carson Palmer, LeSean McCoy, Rob Gronkowski, Robert Griffin III, and Arian Foster to reach the finals.
Barry Sanders shared the NCAA Football 13 cover with RGIII last year.  The only thing left for him to accomplish in the video game world was to grace the Madden cover.
EA Sports has been hyping a new feature called, "Run Free" so naturally the final vote would come down to 2 of the best running backs in history.
The first trailer for Madden 25 can be seen below.  The schedule for when the rest of the information will be released can be found here.
For those of you who haven't been keeping up with Madden news this year, the game was named Madden 25 (instead of Madden 14 which pretty much everyone expected) to celebrate the 25th anniversary of Madden video games.
Who would have ever expected the Detroit Lions of all teams to have back to back winners of the Madden cover vote?
Madden 25 is still set to be released on August 27th, 2013 on both the PlayStation 3 and XBOX 360.  An official announcement should come in June on whether we can expect Madden 25 on the new XBOX and the PlayStation 4.