Complete NCAA Football 14 Team Ratings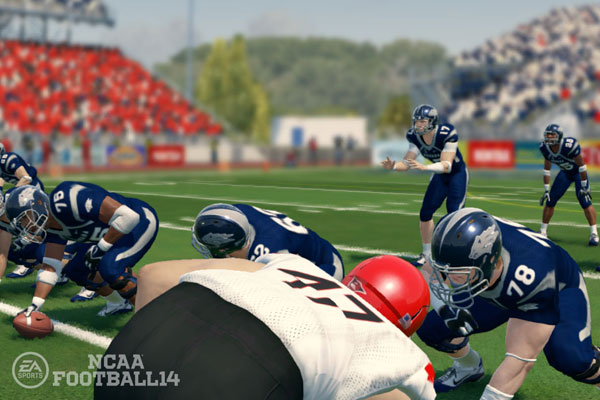 The guys over at Tradition Sports Online put together the complete ratings for each team in NCAA Football 14.  Offense, Defense, and Overall rating were all recorded.  Look for some individual player ratings to come out over the next few days.
As expected, Alabama leads all teams with 99 ratings on offense, defense, and overall.  Check out the full ratings below.
| Team | Overall | Offense | Defense |
| --- | --- | --- | --- |
| Air Force | 70 | 68 | 71 |
| Akron | 63 | 61 | 65 |
| Alabama | 99 | 99 | 99 |
| Arizona | 86 | 86 | 88 |
| Arizona State | 84 | 86 | 83 |
| Arkansas | 88 | 88 | 87 |
| Arkansas State | 77 | 79 | 76 |
| Army | 72 | 72 | 73 |
| Auburn | 88 | 88 | 90 |
| BYU | 83 | 84 | 83 |
| Ball State | 79 | 86 | 73 |
| Baylor | 90 | 90 | 88 |
| Boise State | 86 | 90 | 82 |
| Boston College | 86 | 86 | 85 |
| Bowling Green | 74 | 75 | 75 |
| Buffalo | 79 | 81 | 78 |
| Cal | 84 | 86 | 83 |
| Central Michigan | 72 | 72 | 71 |
| Cincinnati | 81 | 81 | 83 |
| Clemson | 93 | 95 | 90 |
| Colorado | 79 | 81 | 78 |
| Colorado State | 72 | 74 | 73 |
| UConn | 81 | 84 | 80 |
| Duke | 79 | 79 | 78 |
| ECU | 84 | 86 | 83 |
| Eastern Michigan | 65 | 68 | 65 |
| FIU | 79 | 77 | 80 |
| Florida | 90 | 90 | 92 |
| FAU | 75 | 77 | 76 |
| Florida State | 91 | 93 | 92 |
| Fresno State | 81 | 84 | 78 |
| Georgia State | 60 | 60 | 60 |
| Georgia | 91 | 95 | 88 |
| Georgia Tech | 86 | 83 | 88 |
| Hawaii | 77 | 77 | 76 |
| Houston | 84 | 86 | 83 |
| Idaho | 63 | 67 | 61 |
| Illinois | 83 | 86 | 80 |
| Indiana | 81 | 83 | 82 |
| Iowa | 88 | 88 | 90 |
| Iowa State | 81 | 81 | 83 |
| Kansas | 81 | 84 | 78 |
| Kansas State | 86 | 91 | 83 |
| Kent State | 74 | 75 | 75 |
| Kentucky | 84 | 84 | 83 |
| LSU | 93 | 93 | 92 |
| La Tech | 74 | 75 | 73 |
| Louisville | 90 | 93 | 88 |
| Marshall | 74 | 77 | 73 |
| Maryland | 86 | 86 | 85 |
| Memphis | 70 | 72 | 70 |
| Miami (FL) | 90 | 91 | 88 |
| Miami (OH) | 72 | 74 | 71 |
| Michigan | 91 | 91 | 92 |
| Michigan State | 91 | 90 | 93 |
| MTSU | 74 | 75 | 75 |
| Minnesota | 79 | 79 | 80 |
| Mississippi State | 88 | 90 | 85 |
| Missouri | 88 | 90 | 87 |
| North Carolina State | 84 | 84 | 85 |
| Navy | 74 | 74 | 75 |
| Nebraska | 88 | 91 | 85 |
| Nevada | 75 | 77 | 73 |
| New Mexico | 65 | 67 | 66 |
| New Mexico State | 65 | 68 | 65 |
| North Carolina | 91 | 91 | 90 |
| North Texas | 72 | 72 | 75 |
| NIU | 79 | 83 | 78 |
| Northwestern | 86 | 86 | 87 |
| Notre Dame | 93 | 93 | 93 |
| Ohio | 79 | 83 | 76 |
| Ohio State | 95 | 97 | 92 |
| Oklahoma | 91 | 97 | 88 |
| Oklahoma State | 91 | 93 | 92 |
| Old Dominion | 70 | 74 | 68 |
| Ole Miss | 90 | 91 | 88 |
| Oregon | 95 | 99 | 92 |
| Oregon State | 84 | 86 | 83 |
| Penn State | 84 | 86 | 85 |
| Pitt | 77 | 77 | 80 |
| Purdue | 84 | 84 | 85 |
| Rice | 75 | 75 | 76 |
| Rutgers | 84 | 86 | 82 |
| SMU | 81 | 83 | 78 |
| San Diego State | 84 | 84 | 83 |
| San Jose | 77 | 81 | 76 |
| South Carolina | 90 | 88 | 90 |
| South Alabama | 68 | 67 | 70 |
| Southern Miss | 74 | 72 | 75 |
| Stanford | 91 | 91 | 93 |
| Syracuse | 81 | 83 | 80 |
| TCU | 84 | 86 | 85 |
| Temple | 81 | 81 | 82 |
| Tennessee | 86 | 84 | 88 |
| Texas | 93 | 95 | 93 |
| Texas A&M | 91 | 95 | 88 |
| Texas State | 68 | 67 | 70 |
| Texas Tech | 86 | 90 | 83 |
| Toledo | 81 | 84 | 78 |
| Troy | 75 | 75 | 75 |
| Tulane | 75 | 77 | 68 |
| Tulsa | 79 | 84 | 75 |
| UAB | 68 | 68 | 68 |
| UCF | 83 | 86 | 82 |
| UCLA | 88 | 88 | 87 |
| UL Lafayette | 77 | 81 | 75 |
| UL Monroe | 75 | 79 | 75 |
| UMass | 61 | 61 | 65 |
| UNLV | 72 | 75 | 70 |
| USC | 91 | 95 | 90 |
| USF | 84 | 81 | 87 |
| UTEP | 75 | 77 | 73 |
| UTSA | 68 | 68 | 70 |
| Utah | 86 | 84 | 87 |
| Utah State | 75 | 77 | 75 |
| Vanderbilt | 83 | 84 | 82 |
| Virginia | 84 | 86 | 83 |
| Virginia Tech | 93 | 91 | 95 |
| Wake Forest | 83 | 83 | 85 |
| Washington | 91 | 91 | 90 |
| Washington State | 81 | 83 | 80 |
| West Virginia | 84 | 83 | 87 |
| Western Kentucky | 75 | 72 | 78 |
| Western Michigan | 72 | 74 | 71 |
| Wisconsin | 88 | 88 | 88 |
| Wyoming | 75 | 77 | 75 |