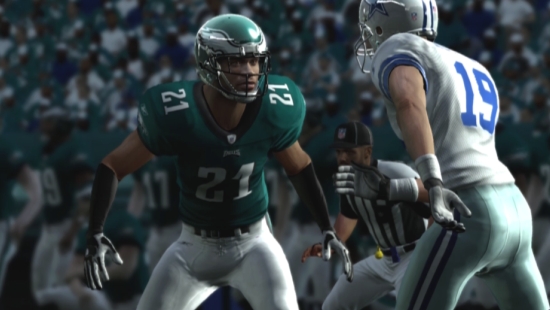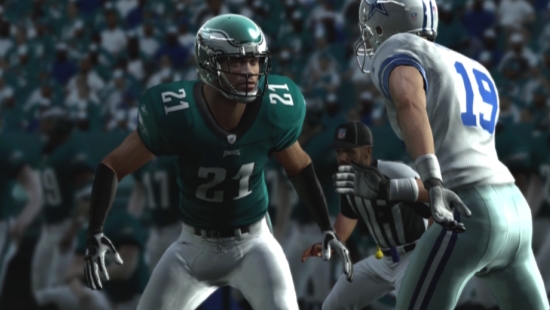 The most important positions for a dominant madden defense have always been cornerbacks and safeties.  Today we are going to take a look at the 5 best secondaries in Madden 12 and the reasons why they are so effective.
5. Jets – Antonio Cromartie and Darrelle Revis are an incredibly dangerous cornerback tandem.  Cromartie has the height/speed/catch combination that makes him play much higher than his 86 overall rating.  Darrelle Revis is the prototypical shutdown corner and plays that way in Madden 12.  When you pair them with Kyle Wilson, a serviceable nickel corner, you have a great group of corners.  The weakness in the Jets secondary is their poor safeties.  Jim Leonhard is a good strong safety but his 84 speed rating really hurts him.  The free safeties, Brodney Pool and Eric Smith, are very weak but that shouldn't matter much when you factor in the other members of the secondary.
4. Eagles – If we had released this list when the NFL season started, the Eagles would be #1. Unfortunately for their fans they have since seen some ratings drops. Nonetheless,  Nnamdi Asomucha, Asante Samuel, and Dominique Rodgers-Cromartie form the best Madden cornerback group over the last 10 years.  3 of the top 10 corners in Madden 12 are on the same team which makes the Eagles scary.  DRC is only an 82 overall but his 98 speed and 6'2″ frame make him a top 5 cornerback.  Again the big weakness comes from their safeties.  If you have good user skills, you can sub in Tom Nelson with 92 speed into one of the safety spots or you can move one of your cornerbacks to safety, but you are still left with 1 weak position.
3. Raiders- When you have 7 members of a secondary with 93 speed or more you can put the fear of God into your opponent.  Stanford Routt is the leader of the secondary because of his 90 overall rating and 95 speed attribute.  When you factor in Chris Johnson, Demarcus Van Dyke, Chidi Chekwa, and Bryan McCann you can come out in quarters or a 46 speed package and turn the Raiders defense into the fastest defense in Madden 12.  Michael Huff and Tyvon Branch have the speed to cover wide receivers, tight ends and running backs which allows you to cook up heavy blitzes any time you want.
2. Packers – The Packers secondary is just plain scary.  Charles Woodson and Tramon Williams are both 90+ overall with big play ability.  Morgan Burnett is a rising star that can help in run support and coverage.  Nick Collins is an elite free safety that covers the entire field in large part because of his 92 speed.  We haven't even mentioned Sam Shields yet who could be the best player in that group.  By putting Sam Shields on the field, you don't have to worry about getting beat deep by the likes of Devin Hester and other speedsters at wide receiver.
1. Redskins – If the Redskins had any sort of offense, you would see much more of them online.  The Redskins top 3 cornerbacks have 95 speed or more and they are all young and can cover receiver you throw at them.  The real strength of that secondary comes from their 2 safeties O.J. Atogwe and Laron Landry at 91 and 90 overall respectively.  Laron Landry is the perfect Madden safety with 92 speed and 80 strength.  You can play him in run defense, drop him back in a zone, man him up against any receiver on the field, and you can even bring him on a blitz.  O.J. Atogwe is an ideal ballhawk with his 78 catch rating and 89 speed.  Although the Redskins are rarely ever used, their secondary is the best in Madden 12.
Did we leave out a team you think deserves to be on this list?  Do you think the order is wrong?  Let us know what you think in the comments secton below.