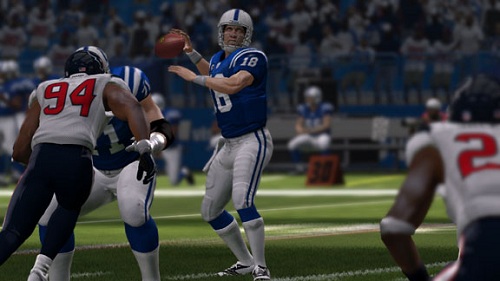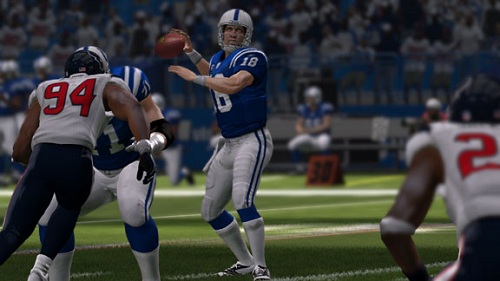 The quarterback position in madden 12 is more important than ever before.  Having a good qb makes the game easy, while having a bad qb makes completing a 10 yard pass nearly impossible.  So we decided to put together a list of the top 5 quarterbacks in madden 12.
5. Tim Tebow – If you know how to use him, Tim Tebow can be a great weapon.  The defense can't just put 1 defender in a qb spy because Tebow will run him over.  A common weakness made by Bronco users is trying the run with Tebow or throw a streak route 50 yards downfield and hope for the best.  If you are disciplined and run a well balanced offense, you can give defenses fits in madden 12.
4. Drew Brees – The pinpoint accuracy that Brees has developed over the last 5 years is remarkable and it translates very well to the madden franchise.  Whether you are throwing a quick slant or a deep post, you can count on Drew Brees to put the ball right on the money.  You can bullet pass without worrying about overthrowing your wide receivers and using Brees as your qb allows you to use the precision pass feature with ease.  The only downside of playing with Brees is his lack of mobility.
3. Michael Vick – There have been many years where Michael Vick would be at the top of this list but because of the year the Eagle's have been having, he moves a few notches down.  Vick has suprising accuracy for a mobile qb and is by far the most electrifying quarterback in Madden 12.  His inconsistency and fumbling problems have always been his downfall and that is no different this year.
2. Tom Brady –  A consistent qb with great ratings across the board, Tom Brady has been one of the best quarterbacks in the NFL and Madden for a decade.  He can make all the throws and finds a way to avoid sacks in Madden 12 even though he isn't the fastest or strongest guy.  He has no real flaws that stand out except some may view his speed as a negative.  However, if you are using Tom Brady you shouldn't be running all that much anyway.
1. Aaron Rodgers – Aaron Rodgers is the perfect Madden quarterback.  He has high speed ratings, high accuracy ratings, and high throw power ratings.  Many quarterbacks make this list because they have no weaknesses.  Aaron Rodgers stands out from the pack because every attribute he has is a strength.  He makes any team he used with much better.  He is a lock to make the list for top 5 Madden nfl QB's of all-time.
Honorable Mention goes to Peyton Manning.  If he wasn't injured this year he would make this list.  Feel free to comment below on who should or shouldn't have made the cut.