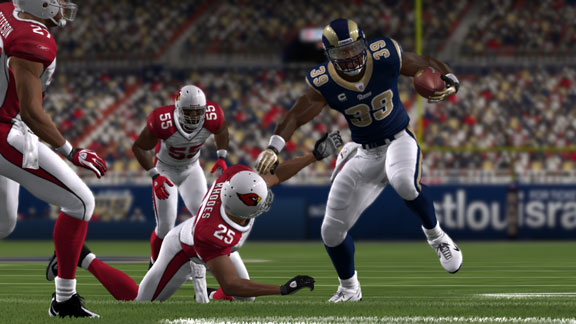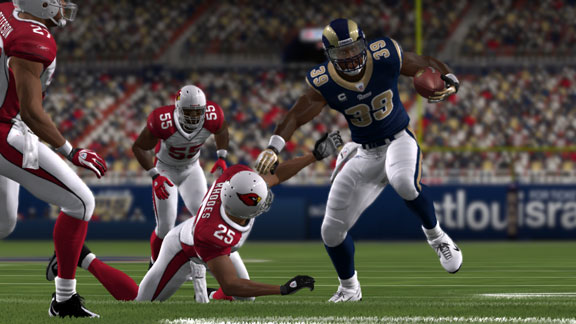 Every year there are a handful of teams that you never see played with.  In Madden 12 there are 4 teams that stand out as completely unusable.  The only way you will ever see these teams online is if you are playing a hardcore fan or an amazing player testing his skill by using the worst teams.
4. Bills – If you put aside the Bills running backs Fred Jackson and C.J. Spiller you are left with really no usable talent in madden 12.  Steve Johnson, while a good NFL receiver when he is not blaming God for his drops, does not translate well to madden.  It is hard to put Brad Smith at QB unless you want to pick a wildcat play which really limits the Bills offense.  Slow linebackers and safeties leave the defense vulnerable to big plays.On the bright side, you can use Brian Moorman and his 89 speed for some nifty fake punts.
3. Buccaneers – Josh Freeman and LeGarrette Blount suffered big ratings drops this year.  The top offensive skill player other than Kellen Winslow is only an 80 overall.  The Bucs don't have a running back or wide receiver with any speed which limits their explosiveness on offense.  Their best linebacker is a 77 overall which leaves a huge hole in the middle of the defense.  While the corners are decent, the safeties are too slow and the defensive line isn't anything special.  The one bright spot is the backup quarterback Josh Johnson.
2. Rams – Steven Jackson and Brandon Lloyd are the only good players on the Rams offense.  However, neither of them have the attributes that translates into dominant madden players which leaves the Rams in a tough spot.  Sam Bradford is stuck at 80 overall and they have no decent tight ends to help him.  On defense, you are limit to just Chris Long and James Laurinaitis but they have 75 and 76 speed respectively which really hurts.  If you play with the Rams you will have a hard time beating anyone.
1. Browns – Taking the Browns to the Super Bowl is harder than ever.  Joe Thomas is a stud but left tacklers don't matter much in Madden.  Peyton Hillis' ratings have dropped like a rock since the season started.  Joe Haden is a solid lockdown cornerback, but you can pick on every other member of the secondary.  The Browns best chance of scoring is to line Josh Cribbs up 30 yards behind the line of scrimmage, snap the ball and throw it to him to set up a punt return look.
Are their any other teams that you never see played with?  What teams do you refuse to use?  Let us know by leaving a response in our comments section.