One of the biggest weaknesses of the NCAA Football franchise is the inability to implement roster updates throughout the season. In most other sports games, if a player is having an amazing season, it will be reflected in his ratings in the game. So when we break down the 3 most electrifying players in NCAA Football 12 keep in mind that they may not be the most electrifying players in real life.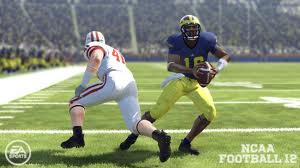 3. Robert Griffin III – If there were roster updates, he would easily be at #1 overall. The Heisman trophy winner is probably the most electrifying player in college football but that doesn't give him the crown when it comes to NCAA Football 12. RG3 can do it all but what makes him special is his ability to outrun an entire defense while making it look easy.
2. Jeff Demps – His 99 speed rating makes him easily the fastest player in the game. Unfortunately, the Florida Gators aren't nearly as good as they have been in past NCAA games so you may not get to use Demps if you want to compete with teams such as Alabama or Oklahoma. Once he gets a step on the defense he is gone.
1. Denard Robinson – Nearly everyone would agree that Denard Robinson is not a top 10 player, but when it comes to the virtual gridiron he is unstoppable. He has good arm strength, passing accuracy and is faster than most running backs and wide receivers. Anyone who has played against Michigan in NCAA 12 knows just how hard it is to slow the guy down. If you come across a good player who is using Michigan, your only hope is to try to knock Robinson out of the game.
Who did we leave off the list that belongs? What other players should be considered for recognition.  Let us know in the comments section.