Madden 12 Roster Update #18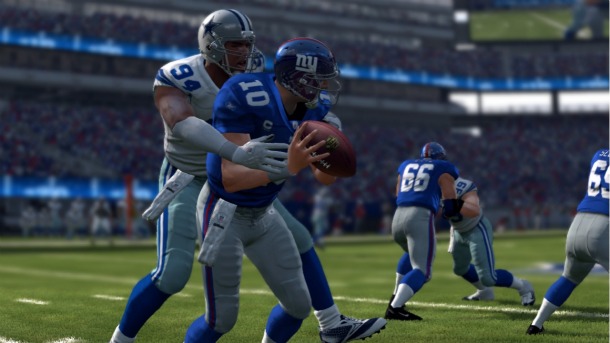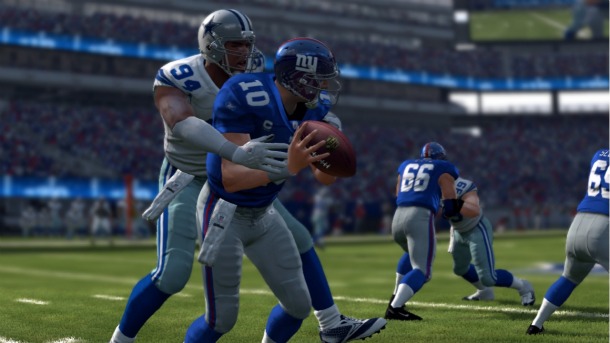 The last roster update of the regular season is scheduled to arrive on XBOX 360 and PlayStation 3 on Friday, January 6th.  The biggest winners this week in terms of overall progression are the 49ers, Patriots, and Jaguars.  The Colts, Rams, and Browns are the biggest losers this week.
A few notable player changes are Tim Tebow (-4) and Patrick Willis (-1)  while players like Calvin Johnson (+1) and MJD (+1) progressed to 98 overall.  In all likelihood, if your team did not make the playoffs this is the last player progression you will see.  For those teams that did make the playoffs, you will still get player progression as usual.
| | | | |
| --- | --- | --- | --- |
| O'Brien Schofield | LB | ARZ | Decrease, from 73 to 72OVR |
| Early Doucet | WR | ARZ | Decrease, from 75 to 74OVR |
| Stewart Bradley | LB | ARZ | Decrease, from 78 to 75OVR |
| Rex Hadnot | OL | ARZ | Decrease, from 79 to 78VR |
| Calais Campbell | DL | ARZ | Decrease, from 88 to 87OVR |
| Anthony Sherman | FB | ARZ | Increase, from 69 to 72OVR |
| Vonnie Holliday | DL | ARZ | Increase, from 74 to 75OVR |
| Jeremy Bridges | OL | ARZ | Increase, from 76 to 78OVR |
| Richard Marshall | CB | ARZ | Increase, from 76 to 80OVR |
| Lyle Sendlein | OL | ARZ | Increase, from 77 to 79OVR |
| Daryl Washington | LB | ARZ | Increase, from 84 to 85OVR |
| Kevin Cone | WR | ATL | Added to the game |
| Sam Baker | OL | ATL | Decrease, from 83 to 81OVR |
| Will Svitek | OL | ATL | Increase, from 73 to 75OVR |
| Julio Jones | WR | ATL | Increase, from 84 to 86OVR |
| Michael Turner | HB | ATL | Increase, from 94 to 95OVR |
| Darrin Walls | CB | ATL | Moved to CB #5 on depth chart |
| Dominique Franks | KR | ATL | Moved to KR #2 on depth chart |
| Robert James | LB | ATL | Moved to LOLB #2 on depth chart |
| John Parker Wilson | QB | ATL | Moved to QB #3 on depth chart |
| William Moore | S | ATL | Moved to SS #1 on depth chart |
| James Sanders | S | ATL | Moved to SS #2 on depth chart |
| Kerry Meier | WR | ATL | Moved to WR #4 on depth chart |
| Kelvin Hayden | CB | ATL | Removed from depth chart (injury) |
| Mike Peterson | LB | ATL | Removed from depth chart (injury) |
| Dennis Pitta | TE | BAL | Increase, from 72 to 73OVR |
| Pernell McPhee | DL | BAL | Increase, from 72 to 74OVR |
| Terrence Cody | DL | BAL | Increase, from 76 to 78OVR |
| Cary Williams | CB | BAL | Increase, from 77 to 78OVR |
| Lardarius Webb | CB | BAL | Increase, from 83 to 84OVR |
| Vonta Leach | FB | BAL | Increase, from 94 to 95OVR |
| Ray Rice | HB | BAL | Increase, from 95 to 96OVR |
| Alex Carrington | DL | BUF | Decrease, from 70 to 69OVR |
| Aaron Williams | CB | BUF | Decrease, from 71 to 70OVR |
| David Nelson | WR | BUF | Decrease, from 73 to 72OVR |
| Drayton Florence | CB | BUF | Decrease, from 76 to 75OVR |
| Ryan Fitzpatrick | QB | BUF | Decrease, from 84 to 82OVR |
| Andy Levitre | OL | BUF | Decrease, from 89 to 88OVR |
| Kellen Heard | DL | BUF | Increase, from 54 to 57OVR |
| Justin Rogers | CB | BUF | Increase, from 58 to 61OVR |
| C.J. Spiller | HB | BUF | Increase, from 77 to 78OVR |
| Erik Pears | OL | BUF | Increase, from 80 to 83OVR |
| Sherrod Martin | S | CAR | Decrease, from 76 to 75OVR |
| Greg Hardy | DL | CAR | Decrease, from 79 to 78OVR |
| James Anderson | LB | CAR | Decrease, from 89 to 88OVR |
| Chris Gamble | CB | CAR | Decrease, from 93 to 92OVR |
| Frank Kearse | DL | CAR | Increase, from 59 to 64OVR |
| Jonathan Stewart | HB | CAR | Increase, from 84 to 85OVR |
| Travelle Wharton | OL | CAR | Increase, from 85 to 87OVR |
| Jordan Gross | OL | CAR | Increase, from 92 to 93OVR |
| Nick Roach | LB | CHI | Decrease, from 72 to 71OVR |
| Amobi Okoye | DL | CHI | Increase, from 77 to 78OVR |
| Henry Melton | DL | CHI | Increase, from 78 to 79OVR |
| Tim Jennings | CB | CHI | Increase, from 80 to 81OVR |
| Charles Tillman | CB | CHI | Increase, from 88 to 89OVR |
| Matt Forte | HB | CHI | Moved to HB #1 on depth chart |
| Otis Hudson | OL | CIN | Changed position to LG (was RG) |
| Mike McGlynn | OL | CIN | Changed position to RG (was LG) |
| Reggie Nelson | S | CIN | Decrease, from 78 to 76OVR |
| Andre Smith | OL | CIN | Decrease, from 81 to 80OVR |
| Kyle Cook | OL | CIN | Decrease, from 81 to 80OVR |
| A.J. Green | WR | CIN | Decrease, from 88 to 87OVR |
| Jerome Simpson | WR | CIN | Increase, from 77 to 78OVR |
| Nate Livings | OL | CIN | Increase, from 78 to 79OVR |
| Andrew Whitworth | OL | CIN | Increase, from 90 to 91OVR |
| Adam Jones | CB | CIN | Moved to CB #2 on depth chart |
| Kelly Jennings | CB | CIN | Moved to CB #3 on depth chart |
| Otis Hudson | OL | CIN | Moved to LG #2 on depth chart |
| Frostee Rucker | DL | CIN | Moved to RE #1 on depth chart |
| Michael Johnson | DL | CIN | Moved to RE #2 on depth chart |
| Mike McGlynn | OL | CIN | Moved to RG #1 on depth chart |
| Clint Boling | OL | CIN | Moved to RG #2 on depth chart |
| Brandon Tate | WR | CIN | Moved to WR #3 on depth chart |
| Ryan Whalen | WR | CIN | Moved to WR #4 on depth chart |
| Andre Caldwell | WR | CIN | Removed from depth chart (injury) |
| Shawn Lauvao | OL | CLE | Decrease, from 70 to 69OVR |
| Mohamed Massaqoui | WR | CLE | Decrease, from 72 to 71OVR |
| Seneca Wallace | QB | CLE | Decrease, from 73 to 72OVR |
| Greg Little | WR | CLE | Decrease, from 76 to 75OVR |
| Peyton Hillis | HB | CLE | Decrease, from 86 to 85OVR |
| Alex Mack | OL | CLE | Decrease, from 89 to 88OVR |
| Ahtyba Rubin | DL | CLE | Increase, from 88 to 89OVR |
| Orlando Scandrick | CB | DAL | Decrease, from 74 to 73OVR |
| Gerald Sensenbaugh | S | DAL | Decrease, from 78 to 77OVR |
| Dan Bailey | K | DAL | Decrease, from 81 to 80OVR |
| Doug Free | OL | DAL | Decrease, from 81 to 80OVR |
| Kyle Kosier | OL | DAL | Decrease, from 81 to 80OVR |
| Terence Newman | CB | DAL | Decrease, from 86 to 85OVR |
| Miles Austin | WR | DAL | Decrease, from 89 to 88OVR |
| Tony Romo | QB | DAL | Decrease, from 91 to 90OVR |
| Chris Jones | P | DAL | Increase, from 41 to 49OVR |
| Alan Ball | CB | DAL | Increase, from 68 to 69OVR |
| Jason Hatcher | DL | DAL | Increase, from 75 to 77OVR |
| Kenyon Coleman | DL | DAL | Increase, from 77 to 79OVR |
| Laurent Robinson | WR | DAL | Increase, from 82 to 83OVR |
| Sean Lee | LB | DAL | Increase, from 85 to 86OVR |
| Derrick Harvey | DL | DEN | Changed position to LE (was RE) |
| Jason Hunter | DL | DEN | Changed position to RE (was LE) |
| Quinton Carter | S | DEN | Decrease, from 71 to 70OVR |
| Ryan McBean | DL | DEN | Decrease, from 74 to 73OVR |
| Eric Decker | WR | DEN | Decrease, from 79 to 78OVR |
| Tim Tebow | QB | DEN | Decrease, from 80 to 76OVR |
| Von Miller | LB | DEN | Decrease, from 87 to 86OVR |
| Ryan Clady | OL | DEN | Decrease, from 90 to 89OVR |
| Marcus Thomas | DL | DEN | Increase, from 75 to 76OVR |
| Joe Mays | LB | DEN | Increase, from 80 to 82OVR |
| Willis McGahee | HB | DEN | Increase, from 86 to 87OVR |
| Chris Kuper | OL | DEN | Lowered on depth chart (injury) |
| Eddie Royal | KR | DEN | Moved to KR #1 on depth chart |
| Derrick Harvey | DL | DEN | Moved to LE #2 on depth chart |
| Eddie Royal | PR | DEN | Moved to PR #1 on depth chart |
| Jason Hunter | DL | DEN | Moved to RE #2 on depth chart |
| Russ Hochstein | OL | DEN | Moved to RG #1 on depth chart |
| Ryan Harris | OL | DEN | Moved to RT #3 on depth chart |
| Virgil Green | TE | DEN | Moved to TE #2 on depth chart |
| Dante Rosario | TE | DEN | Moved to TE #3 on depth chart |
| Quinn Johnson | FB | DEN | Released |
| Quan Cosby | WR | DEN | Released |
| Jeremy Beal | DL | DEN | Removed from depth chart (P-squad) |
| Ryan Harris | OL | DEN | Signs |
| Alphonso Smith | CB | DET | Decrease, from 77 to 75OVR |
| Cliff Avril | DL | DET | Decrease, from 87 to 86OVR |
| Ndamukong Suh | DL | DET | Decrease, from 94 to 93OVR |
| Titus Young | WR | DET | Increase, from 72 to 74OVR |
| Jeff Backus | OL | DET | Increase, from 81 to 84OVR |
| Kyle Vanden Bosch | DL | DET | Increase, from 82 to 83OVR |
| Brandon Pettigrew | TE | DET | Increase, from 82 to 84OVR |
| Matthew Stafford | QB | DET | Increase, from 88 to 89OVR |
| Calvin Johnson | WR | DET | Increase, from 97 to 98OVR |
| Louis Delmas | S | DET | Moved to FS #1 on depth chart |
| Joique Bell | HB | DET | Moved to HB #3 on depth chart |
| Chris Harris | S | DET | Moved to SS #2 on depth chart |
| Ricardo Silva | S | DET | Moved to SS #3 on depth chart |
| Joique Bell | HB | DET | Now wears #35 |
| Aaron Brown | HB | DET | Released |
| Joique Bell | HB | DET | Signs |
| Erik Walden | LB | GB | Decrease, from 76 to 74OVR |
| B.J. Raji | DL | GB | Decrease, from 86 to 85OVR |
| Chad Clifton | OL | GB | Decrease, from 88 to 87OVR |
| Tramon Williams | CB | GB | Decrease, from 92 to 91OVR |
| Vic So'oto | LB | GB | Increase, from 61 to 65OVR |
| Matt Flynn | QB | GB | Increase, from 76 to 81OVR |
| T.J. Lang | OL | GB | Increase, from 79 to 80OVR |
| Ryan Grant | HB | GB | Increase, from 79 to 80OVR |
| Jordy Nelson | WR | GB | Increase, from 87 to 89OVR |
| Quintin Demps | S | HOU | Decrease, from 71 to 70OVR |
| Kareem Jackson | CB | HOU | Decrease, from 76 to 75OVR |
| Lawrence Vickers | FB | HOU | Decrease, from 87 to 83OVR |
| Bryan Braman | LB | HOU | Increase, from 53 to 55OVR |
| Earl Mitchell | DL | HOU | Increase, from 70 to 72OVR |
| James Casey | FB | HOU | Increase, from 76 to 79OVR |
| Antonio Smith | DL | HOU | Increase, from 83 to 84OVR |
| Duane Brown | OL | HOU | Increase, from 84 to 86OVR |
| Lawrence Vickers | FB | HOU | Moved to FB #1 on depth chart |
| Danieal Manning | S | HOU | Moved to FS #1 on depth chart |
| Quintin Demps | KR | HOU | Moved to KR #2 on depth chart |
| Andre Johnson | WR | HOU | Moved to WR #1 on depth chart |
| Brody Eldridge | TE | IND | Decrease, from 63 to 62OVR |
| Ernie Sims | LB | IND | Decrease, from 70 to 69OVR |
| Jeff Linkenbach | OL | IND | Decrease, from 71 to 69OVR |
| Fili Moala | DL | IND | Decrease, from 74 to 73OVR |
| Tyler Brayton | DL | IND | Decrease, from 74 to 73OVR |
| Kavell Conner | LB | IND | Decrease, from 75 to 74OVR |
| Joseph Addai | HB | IND | Decrease, from 80 to 79OVR |
| Ryan Diem | OL | IND | Decrease, from 82 to 81OVR |
| Dallas Clark | TE | IND | Decrease, from 88 to 87OVR |
| Ricardo Mathews | DL | IND | Increase, from 69 to 71OVR |
| David Caldwell | S | IND | Increase, from 71 to 72OVR |
| Jacob Lacey | CB | IND | Increase, from 72 to 73OVR |
| Austin Collie | WR | IND | Increase, from 77 to 78OVR |
| Brian Robiskie | WR | JAX | Decrease, from 70 to 68OVR |
| Mike Thomas | WR | JAX | Decrease, from 77 to 75OVR |
| Uche Nwaneri | OL | JAX | Decrease, from 85 to 84OVR |
| George Selvie | DL | JAX | Increase, from 60 to 63OVR |
| Akwasi Owusu-Ansah | S | JAX | Increase, from 63 to 65OVR |
| Morgan Trent | CB | JAX | Increase, from 65 to 68OVR |
| Chastin West | WR | JAX | Increase, from 66 to 68OVR |
| Jeremy Mincey | DL | JAX | Increase, from 78 to 80OVR |
| Tyson Alualu | DL | JAX | Increase, from 81 to 82OVR |
| Eugene Monroe | OL | JAX | Increase, from 84 to 86OVR |
| Brad Meester | OL | JAX | Increase, from 85 to 86OVR |
| Josh Scobee | K | JAX | Increase, from 85 to 88OVR |
| Maurice Jones-Drew | HB | JAX | Increase, from 97 to 98OVR |
| Jon Asamoah | OL | KC | Decrease, from 83 to 82OVR |
| Dexter McCluster | HB | KC | Increase, from 73 to 75OVR |
| Javier Arenas | CB | KC | Increase, from 75 to 76OVR |
| Justin Houston | LB | KC | Increase, from 77 to 78OVR |
| Brandon Carr | CB | KC | Increase, from 83 to 84OVR |
| Glenn Dorsey | DL | KC | Increase, from 83 to 85OVR |
| Dwayne Bowe | WR | KC | Increase, from 90 to 91OVR |
| Reshad Jones | S | MIA | Decrease, from 75 to 74OVR |
| John Jerry | OL | MIA | Decrease, from 76 to 74OVR |
| Brian Hartline | WR | MIA | Decrease, from 76 to 75OVR |
| Mike Pouncey | OL | MIA | Decrease, from 79 to 78OVR |
| Paul Soliai | DL | MIA | Decrease, from 87 to 86OVR |
| Vernon Carey | OL | MIA | Decrease, from 90 to 89OVR |
| Karlos Dansby | LB | MIA | Decrease, from 94 to 93OVR |
| Kevin Burnett | LB | MIA | Increase, from 78 to 81OVR |
| Dan Carpenter | K | MIA | Increase, from 79 to 81OVR |
| Randy Starks | DL | MIA | Increase, from 88 to 89OVR |
| Cameron Wake | LB | MIA | Increase, from 94 to 95OVR |
| Anthony Herrera | OL | MIN | Decrease, from 72 to 71OVR |
| Devin Aromashodu | WR | MIN | Decrease, from 72 to 71OVR |
| Christian Ponder | QB | MIN | Decrease, from 75 to 74OVR |
| Visanthe Shiancoe | TE | MIN | Decrease, from 80 to 78OVR |
| Letroy Guion | DL | MIN | Increase, from 66 to 69OVR |
| Jamarca Sanford | S | MIN | Increase, from 75 to 77OVR |
| Brian Robison | DL | MIN | Increase, from 83 to 86OVR |
| E.J. Henderson | LB | MIN | Increase, from 87 to 88OVR |
| Jared Allen | DL | MIN | Increase, from 97 to 98OVR |
| Ryan Wendell | OL | NE | Increase, from 57 to 63OVR |
| Sterling Moore | S | NE | Increase, from 59 to 64OVR |
| Antwaun Molden | CB | NE | Increase, from 64 to 65OVR |
| Brian Hoyer | QB | NE | Increase, from 66 to 71OVR |
| Dan Connolly | OL | NE | Increase, from 68 to 70OVR |
| Brandon Deaderick | DL | NE | Increase, from 70 to 73OVR |
| Mark Anderson | DL | NE | Increase, from 75 to 77OVR |
| Nate Solder | OL | NE | Increase, from 80 to 81OVR |
| Stephen Gostowski | K | NE | Increase, from 87 to 88OVR |
| Aaron Hernandez | TE | NE | Increase, from 87 to 88OVR |
| Rob Gronkowski | TE | NE | Increase, from 95 to 96OVR |
| Shaun Ellis | DL | NE | Moved to LE #1 on depth chart |
| Brandon Deaderick | DL | NE | Moved to RE #1 on depth chart |
| Mark Anderson | DL | NE | Moved to RE #2 on depth chart |
| Eric Moore | LB | NE | Released |
| Andre Carter | DL | NE | Removed from depth chart (injury) |
| Shaun Rogers | DL | NO | Decrease, from 84 to 82OVR |
| Will Smith | DL | NO | Decrease, from 89 to 88OVR |
| Jed Collins | FB | NO | Increase, from 72 to 75OVR |
| Chris Ivory | HB | NO | Increase, from 75 to 77OVR |
| Patrick Robinson | CB | NO | Increase, from 77 to 78OVR |
| Zach Strief | OL | NO | Increase, from 79 to 80OVR |
| Jermon Bushrod | OL | NO | Increase, from 83 to 84OVR |
| Thomas Morstead | P | NO | Increase, from 84 to 86OVR |
| Marques Colston | WR | NO | Increase, from 91 to 92OVR |
| Jimmy Graham | TE | NO | Increase, from 92 to 94OVR |
| Pierre Thomas | HB | NO | Moved to HB #1 on depth chart |
| Chris Ivory | HB | NO | Moved to HB #3 on depth chart |
| Martez Wilson | LB | NO | Moved to LOLB #2 on depth chart |
| Eric Olsen | OL | NO | Moved to RG #2 on depth chart |
| John Gilmore | TE | NO | Moved to TE #2 on depth chart |
| Tory Humphrey | TE | NO | Moved to TE #3 on depth chart |
| Eric Olsen | OL | NO | Now wears #70 |
| William Robinson | OL | NO | Released |
| Mark Ingram | HB | NO | Removed from depth chart (injury) |
| Will Herring | LB | NO | Removed from depth chart (injury) |
| David Thomas | TE | NO | Removed from depth chart (injury) |
| Eric Olsen | OL | NO | Signs |
| Kevin Boothe | OL | NYG | Changed position to LG (was C) |
| James Brewer | OL | NYG | Changed position to LT (was RT) |
| Tony Ugoh | OL | NYG | Changed position to RT (was LT) |
| David Diehl | OL | NYG | Decrease, from 71 to 69OVR |
| Travis Beckum | TE | NYG | Decrease, from 73 to 70OVR |
| Kareem McKenzie | OL | NYG | Decrease, from 84 to 81OVR |
| Justin Tuck | DL | NYG | Decrease, from 92 to 91OVR |
| Chase Blackburn | LB | NYG | Increase, from 67 to 68OVR |
| Jacquian Williams | LB | NYG | Increase, from 67 to 69OVR |
| Antrel Rolle | S | NYG | Increase, from 81 to 83OVR |
| Victor Cruz | WR | NYG | Increase, from 83 to 87OVR |
| Eli Manning | QB | NYG | Increase, from 91 to 92OVR |
| Jason Pierre-Paul | DL | NYG | Increase, from 93 to 94OVR |
| David Baas | OL | NYG | Moved to C #1 on depth chart |
| Jimmy Kennedy | DL | NYG | Moved to DT#4 on depth chart |
| Da'Rel Scott | KR | NYG | Moved to KR #1 on depth chart |
| Kevin Boothe | OL | NYG | Moved to LG #1 on depth chart |
| Mitch Petrus | OL | NYG | Moved to LG #2 on depth chart |
| James Brewer | OL | NYG | Moved to LT #2 on depth chart |
| Chase Blackburn | LB | NYG | Moved to MLB #1 on depth chart |
| Mark Herzlich | LB | NYG | Moved to ROLB #2 on depth chart |
| Tony Ugoh | OL | NYG | Moved to RT #2 on depth chart |
| Kenny Phillips | S | NYG | Moved to SS #1 on depth chart |
| Tyler Sash | S | NYG | Moved to SS #2 on depth chart |
| Jake Ballard | TE | NYG | Moved to TE #1 on depth chart |
| Travis Beckum | TE | NYG | Moved to TE #2 on depth chart |
| Victor Cruz | WR | NYG | Moved to WR #2 on depth chart |
| Mario Manningham | WR | NYG | Moved to WR #3 on depth chart |
| Wayne Hunter | OL | NYJ | Decrease, from 74 to 72OVR |
| Eric Smith | S | NYJ | Decrease, from 76 to 75OVR |
| Mark Sanchez | QB | NYJ | Decrease, from 82 to 81OVR |
| Santonio Holmes | WR | NYJ | Decrease, from 87 to 86OVR |
| D'Brickashaw Ferguson | OL | NYJ | Decrease, from 94 to 92OVR |
| Jeremy Kerley | WR | NYJ | Increase, from 65 to 67OVR |
| Muhammad Wilkerson | DL | NYJ | Increase, from 75 to 77OVR |
| John Conner | FB | NYJ | Increase, from 79 to 80OVR |
| Lito Sheppard | CB | OAK | Decrease, from 71 to 70OVR |
| Trevor Scott | DL | OAK | Decrease, from 79 to 78OVR |
| Stefan Wisniewski | OL | OAK | Decrease, from 82 to 81OVR |
| Kamerion Wimbley | LB | OAK | Decrease, from 90 to 89OVR |
| Brandon Myers | TE | OAK | Increase, from 67 to 70OVR |
| Jarvis Moss | DL | OAK | Increase, from 70 to 72OVR |
| Aaron Curry | LB | OAK | Increase, from 77 to 78OVR |
| Darrius Heyward-Bey | WR | OAK | Increase, from 79 to 81OVR |
| Lamarr Houston | DL | OAK | Increase, from 82 to 84OVR |
| Carson Palmer | QB | OAK | Increase, from 84 to 85OVR |
| Jared Veldheer | OL | OAK | Increase, from 87 to 88OVR |
| Casey Matthews | LB | PHI | Decrease, from 65 to 64OVR |
| Brian Rolle | LB | PHI | Decrease, from 68 to 67OVR |
| Jaiquawn Jarrett | S | PHI | Decrease, from 71 to 70OVR |
| Juqua Parker | DL | PHI | Decrease, from 78 to 77OVR |
| Todd Herremans | OL | PHI | Decrease, from 89 to 88OVR |
| Chas Henry | P | PHI | Increase, from 56 to 61OVR |
| Keenan Clayton | LB | PHI | Increase, from 66 to 68OVR |
| Dion Lewis | HB | PHI | Increase, from 67 to 70OVR |
| Nate Allen | S | PHI | Increase, from 75 to 76OVR |
| Derek Landri | DL | PHI | Increase, from 78 to 79OVR |
| Brent Celek | TE | PHI | Increase, from 81 to 82OVR |
| Evan Mathis | OL | PHI | Increase, from 89 to 91OVR |
| Trent Cole | DL | PHI | Increase, from 94 to 96OVR |
| Doug Legursky | OL | PIT | Changed position to LG (was C) |
| Marcus Gilbert | OL | PIT | Decrease, from 73 to 72OVR |
| Hines Ward | WR | PIT | Decrease, from 79 to 78OVR |
| Larry Foote | LB | PIT | Decrease, from 80 to 79OVR |
| Maurkice Pouncey | OL | PIT | Decrease, from 88 to 86OVR |
| Stevenson Sylvester | LB | PIT | Increase, from 57 to 60OVR |
| Jason Worilds | LB | PIT | Increase, from 70 to 72OVR |
| Isaac Redman | HB | PIT | Increase, from 72 to 73OVR |
| Chris Kemoeatu | OL | PIT | Increase, from 72 to 73OVR |
| Ramon Foster | OL | PIT | Increase, from 73 to 75OVR |
| David Johnson | FB | PIT | Increase, from 75 to 78OVR |
| Jerricho Cotchery | WR | PIT | Increase, from 78 to 79OVR |
| Heath Miller | TE | PIT | Increase, from 84 to 86OVR |
| Cortez Allen | CB | PIT | Moved to CB #5 on depth chart |
| Ryan Mundy | S | PIT | Moved to FS #1 on depth chart |
| Ryan Clark | S | PIT | Moved to FS #2 on depth chart |
| Isaac Redman | HB | PIT | Moved to HB #1 on depth chart |
| John Clay | HB | PIT | Moved to HB #3 on depth chart |
| Emmanuel Sanders | KR | PIT | Moved to KR #2 on depth chart |
| Doug Legursky | OL | PIT | Moved to LG #1 on depth chart |
| Chris Kemoeatu | OL | PIT | Moved to LG #2 on depth chart |
| Rashard Mendenhall | HB | PIT | Removed from depth chart (injury) |
| Curtis Brown | CB | PIT | Removed from depth chart (injury) |
| Chris Hoke | DL | PIT | Removed from depth chart (injury) |
| Corey Liuget | DL | SD | Decrease, from 75 to 74OVR |
| Steve Gregory | S | SD | Decrease, from 76 to 74OVR |
| Antwan Barnes | LB | SD | Decrease, from 80 to 79OVR |
| Quentin Jammer | CB | SD | Decrease, from 86 to 85OVR |
| Takeo Spikes | LB | SD | Decrease, from 86 to 85OVR |
| Antonio Garay | DL | SD | Increase, from 80 to 81OVR |
| Donald Butler | LB | SD | Increase, from 81 to 82OVR |
| Malcom Floyd | WR | SD | Increase, from 82 to 83OVR |
| Antoine Cason | CB | SD | Increase, from 85 to 86OVR |
| Philip Rivers | QB | SD | Increase, from 90 to 91OVR |
| Eric Weddle | S | SD | Increase, from 90 to 92OVR |
| Ricardo Lockette | WR | SEA | Added to the game |
| Ben Obomanu | WR | SEA | Decrease, from 74 to 73OVR |
| K.J. Wright | LB | SEA | Decrease, from 77 to 76OVR |
| Raheem Brock | DL | SEA | Decrease, from 79 to 78OVR |
| Zach Miller | TE | SEA | Decrease, from 84 to 82OVR |
| Brandon Mebane | DL | SEA | Decrease, from 84 to 83OVR |
| Robert Gallery | OL | SEA | Decrease, from 86 to 85OVR |
| Breno Giacomini | OL | SEA | Increase, from 71 to 73OVR |
| Richard Sherman | CB | SEA | Increase, from 73 to 74OVR |
| Brandon Browner | CB | SEA | Increase, from 78 to 79OVR |
| Max Unger | OL | SEA | Increase, from 79 to 80OVR |
| Alan Branch | DL | SEA | Increase, from 83 to 84OVR |
| Red Bryant | DL | SEA | Increase, from 84 to 85OVR |
| Patrick Willis | LB | SF | Decrease, from 99 to 98OVR |
| Ricky Jean Francois | DL | SF | Increase, from 67 to 70OVR |
| Tramaine Brock | CB | SF | Increase, from 70 to 72OVR |
| Tarell Brown | CB | SF | Increase, from 78 to 80OVR |
| Parys Haralson | LB | SF | Increase, from 82 to 84OVR |
| Michael Crabtree | WR | SF | Increase, from 83 to 84OVR |
| Navorro Bowman | LB | SF | Increase, from 87 to 89OVR |
| Vernon Davis | TE | SF | Increase, from 92 to 94OVR |
| Andy Lee | P | SF | Increase, from 96 to 97OVR |
| Mark LeVoir | OL | STL | Decrease, from 66 to 64OVR |
| Tony Wragge | OL | STL | Decrease, from 71 to 70OVR |
| Brady Poppinga | LB | STL | Decrease, from 73 to 72OVR |
| Darian Stewart | S | STL | Decrease, from 76 to 75OVR |
| Sam Bradford | QB | STL | Decrease, from 81 to 80OVR |
| Quintin Mikell | S | STL | Decrease, from 83 to 81OVR |
| Justin Bannan | DL | STL | Decrease, from 83 to 82OVR |
| Kellen Clemens | QB | STL | Increase, from 70 to 72OVR |
| Harvey Dahl | OL | STL | Increase, from 87 to 89OVR |
| Preston Parker | WR | TB | Decrease, from 72 to 71OVR |
| Mike Williams | WR | TB | Decrease, from 80 to 79OVR |
| Josh Freeman | QB | TB | Decrease, from 81 to 80OVR |
| LeGarrette Blount | HB | TB | Decrease, from 82 to 80OVR |
| Elbert Mack | CB | TB | Increase, from 64 to 68OVR |
| Dezmon Briscoe | WR | TB | Increase, from 68 to 72OVR |
| Larry Asante | S | TB | Increase, from 69 to 71OVR |
| Connor Barth | K | TB | Increase, from 76 to 81OVR |
| Jovan Haye | DL | TB | Signs |
| Derrick Morgan | DL | TEN | Decrease, from 77 to 76OVR |
| Ahmard Hall | FB | TEN | Decrease, from 81 to 79OVR |
| Colin McCarthy | LB | TEN | Increase, from 73 to 74OVR |
| Karl Klug | DL | TEN | Increase, from 73 to 77OVR |
| Jurrell Casey | DL | TEN | Increase, from 77 to 80OVR |
| Jared Cook | TE | TEN | Increase, from 78 to 79OVR |
| Michael Roos | OL | TEN | Increase, from 91 to 92OVR |
| Tyler Polombus | OL | WAS | Decrease, from 66 to 63OVR |
| Anthony Armstrong | WR | WAS | Decrease, from 73 to 72OVR |
| Rocky McIntosh | LB | WAS | Decrease, from 76 to 73OVR |
| Reed Doughty | S | WAS | Decrease, from 76 to 75OVR |
| Stephen Bowen | DL | WAS | Decrease, from 78 to 77OVR |
| Adam Carriker | DL | WAS | Decrease, from 78 to 77OVR |
| Santana Moss | WR | WAS | Decrease, from 84 to 83OVR |
| Josh Wilson | CB | WAS | Decrease, from 84 to 83OVR |
| Evan Royster | HB | WAS | Increase, from 65 to 70OVR |
| Perry Riley | LB | WAS | Increase, from 74 to 76OVR |
| Darrel Young | FB | WAS | Increase, from 74 to 77OVR |
| Ryan Kerrigan | LB | WAS | Increase, from 83 to 85OVR |
| Brian Orakpo | LB | WAS | Increase, from 90 to 91OVR |
| London Fletcher | LB | WAS | Increase, from 93 to 94OVR |