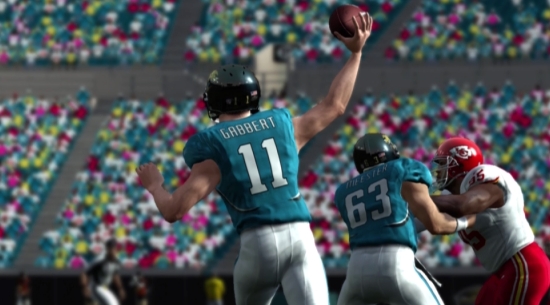 The quarterback position has always been one of the most important positions in Madden.  If you are stuck with a bad qb, your chances of winning drop significantly. There are 3 quarterbacks who stand above the rest when it comes to causing their teams trouble and frustration.
3. Christian Ponder – At 74 overall you really can't do too much with Ponder.  Luckily for Vikings fans, he is only a rookie and has plenty of time to grow.  He also has weapons such as Percy Harvin and Adrian Peterson to throw to when he gets in trouble.  With the defense committing to the run, you don't need a great quarterback but Christian Ponder does not get the job done.
2. Rex Grossman – There is really nothing positive about Rex Grossman in Madden 12 other than his 90 throw power.  Unfortunately throw power is useless unless you have throw accuracy to accompany it.  His 60 speed keeps him in the pocket without the ability to evade pressure.  It doesn't help that he has no real weapons at running back or wide receiver.
1. Blaine Gabbert – 70 overall is the worst rating for a starting quarterback in recent memory. Luckily for Jaguar fans, Maurice Jones-Drew is a stud in Madden 12.  Blaine Gabbert has decent speed to at least avoid some pressure but his throw accuracy is the worst of all the starting quarterbacks in the game.  It is nearly impossible to complete any route over 20 yards with him.  It doesn't help that the Jaguars also have the worst receivers in the game.
What quarterbacks did we leave off this list?  Which quarterbacks play the worst for you?