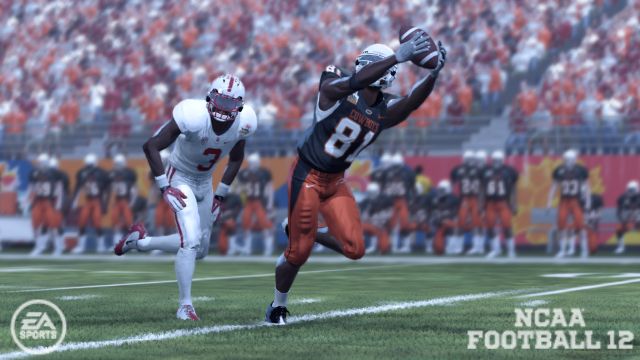 Now that football season has come to a close, passionate football fans really don't have much to do outside of mock drafts, television re-runs, and of course football video games.  Last week EA Sports announced that their will be a 64 man tournament to decide the madden 13 cover athlete.  As we wait for that to kick off on March 7th, we turn to NCAA Football 13.  Below you will find our list of the 3 most likely cover athletes for NCAA 13 in no particular order.
1. Andrew Luck – His career at Stanford speaks for itself.  Most analysts agree that he is the most NFL ready quarterback to come out of college in the last 10 years.  He has the complete package and is a great spokesman for the game of football.  Look for him to be on the cover of a future Madden NFL game as well in a couple years.
2. Justin Blackmon – Anyone who watched Blackmon single handedly tear apart the Stanford defense in the Fiesta Bowl will know why we have Blackmon on our list.  Warren Moon describes him as Dez Bryant with a brain.  He is a physical nightmare to match up with and is the type of player that is lots of fun to play with in a video game.
3. Robert Griffin III – Imagine a young Michael Vick or Vince Young with no off-field issues and you have RG III.  He successfully turned around the program at Baylor from a joke to a national contender.  There is no better player to get people to go out to the stores and pick up a copy of NCAA Football 13 than him and EA Sports knows that.
Who do you think deserves to be on the cover of NCAA Football 13?  Let us know your thoughts in the comments section.