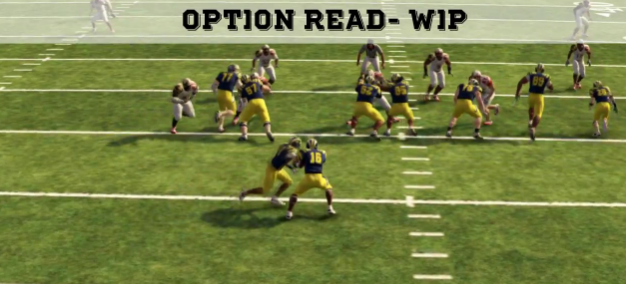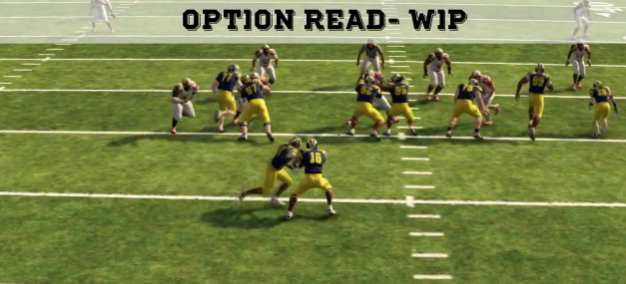 The latest NCAA Football 13 video was released today via the EA Sports YouTube channel featuring the Maryland Terrapins vs. the Michigan Wolverines.  The video shows off a few improvements like a better read option, wide receivers creating space out of their breaks, the bubble screen, the comeback route and the ability to lead an open wide receiver.
My initial analysis of the video is very hit and miss.  The improved read option is something that has been needed for the last few years.  Even if you made the correct read, you would gain maybe 3 yards every time.  This year it looks like they have improved that.  The comeback route is also improved.  Defenders don't break on the ball before the receiver plants his foot for the comeback.  This is much more realistic than ever before.
However, there were a few things in the video that I aren't all that great.  The first is the bubble screen.  There are lots of college programs who run some form of the bubble screen for a big chunk of the game.  In the video it still looks like the bubble screen can only be effective your opponent is in a zone defense that doesn't have anyone in the light blue flat zone and still can't be used at all against man to man defense.  You will notice that even in the video when everything lines up perfectly for a bubble screen, you only get 2-4 yards.  From what I have over the last few years of watching college football, bubble screens either go for negative yards or 8-12.  Hopefully this can still be corrected or the video just happened to show two plays where it happened that way.
The other thing I am still a little confused on is the difference between this new ability that is being touted nearly every video about "leading an open receiver." How is this different than precision passing that has been in the game for the last 5 years?
Nevertheless, it is great to see  NCAA 13 gameplay.  Look for another video coming next Thursday.