Madden 13 Cover Tournament Advances To 1st Round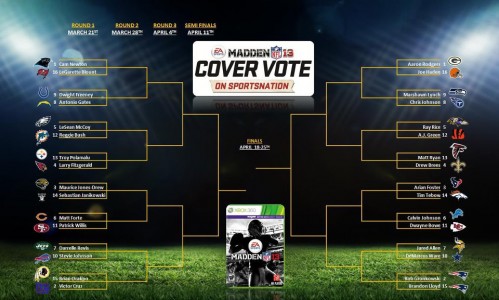 The Madden NFL 13 cover tournament has advanced to the round of 32.  There is now only one representative from each team in the tournament (excluding free agent moves).  Aaron Rodgers and Cam Newton were given the #1 seeds while LaGarrette Blount and Joe Haden are the lowest seeded players at #16.
In a surprising matchup of teammates, Rob Gronkowski will face Brandon Lloyd (who was recently acquired from the Rams).  Larry Fitzgerald and Troy Polamalu shared the cover of Madden 10 but are going head to head in this round.  You can place your vote at the Sportsnation website.  This round will last until March 28th so get your votes in now!