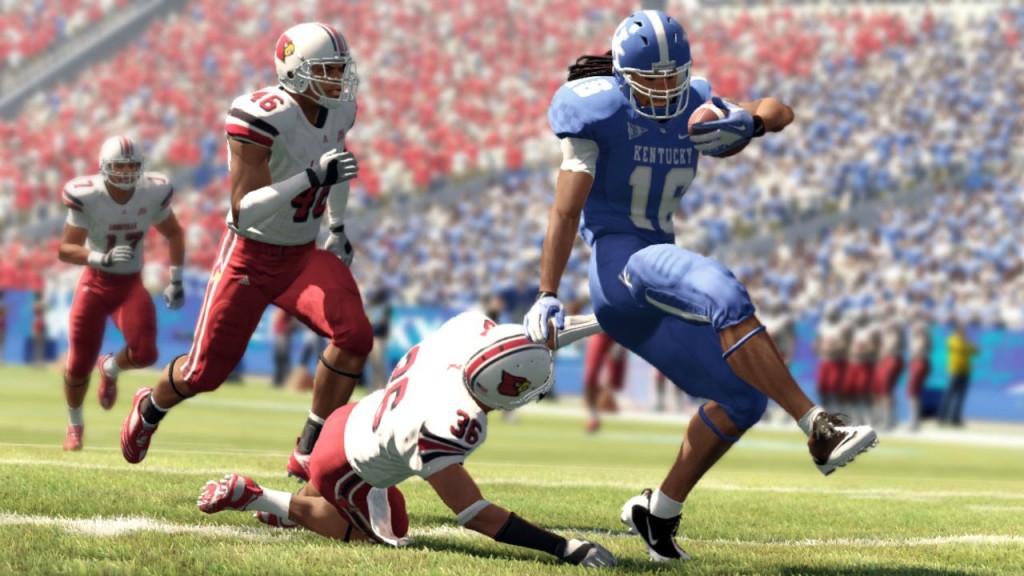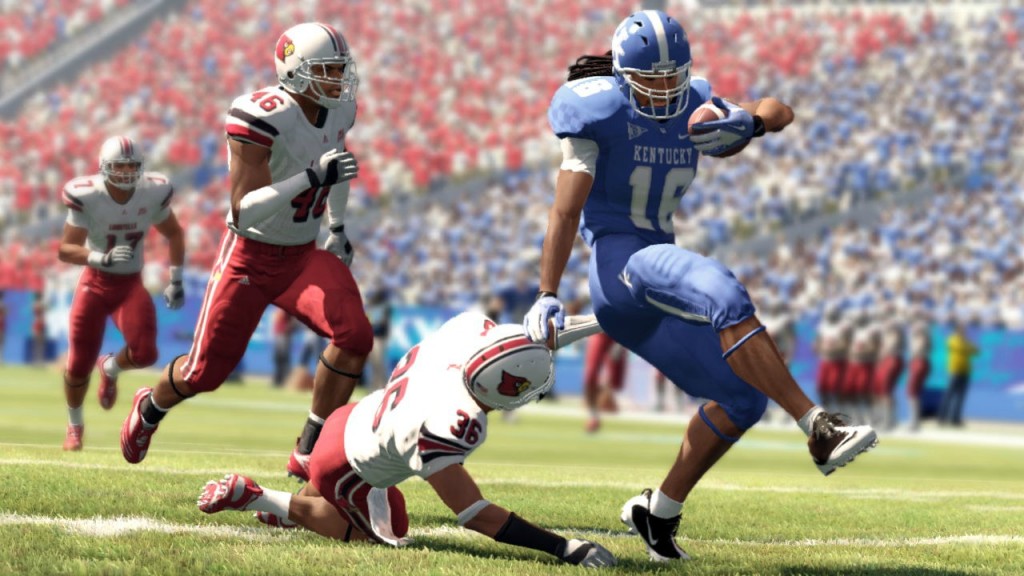 The guys over at Tradition Sports Online put together a nice list of each teams ratings in NCAA Football 13.  Their list includes overall, offense, defense, and prestige ratings for every team in the game.
The first thing that caught my eye was the overall team ratings being higher than I remember.  It has always been much easier to be rated a 99 in NCAA Football in Madden but when 5 teams are rated 99 overall, it does seem like a re-adjustment of the ratings should be made.  Those teams with the 99 overall rating are LSU, Oregon, USC, Texas, and Wisconsin.  Umass has the honor of being rated the lowest team with a 60 overall rating.
The ratings are listed as a reference below. Who do you think is overrated or underrated?  Let us know in the comments section or in our NCAA Football 13 forum.
| Team | Overall | Offense | Defense | Prestige |
| --- | --- | --- | --- | --- |
| Air Force | 75 | 75 | 74 | 3 |
| Akron | 63 | 67 | 61 | 1 |
| Alabama | 97 | 92 | 95 | 6 |
| Arizona | 83 | 81 | 84 | 3 |
| Arizona State | 85 | 84 | 80 | 3 |
| Arkansas | 95 | 95 | 87 | 5 |
| Arkansas State | 81 | 86 | 74 | 2 |
| Army | 73 | 75 | 71 | 1 |
| Auburn | 93 | 89 | 91 | 6 |
| BYU | 89 | 89 | 84 | 4 |
| Ball State | 73 | 77 | 71 | 2 |
| Baylor | 87 | 88 | 84 | 3 |
| Boise State | 89 | 89 | 82 | 5 |
| Boston College | 85 | 83 | 86 | 3 |
| Bowling Green | 75 | 75 | 76 | 2 |
| Buffalo | 71 | 75 | 69 | 1 |
| Cal | 85 | 89 | 76 | 3 |
| Central Michigan | 73 | 77 | 69 | 2 |
| Cincinnati | 89 | 84 | 87 | 3 |
| Clemson | 97 | 95 | 91 | 5 |
| Colorado | 83 | 80 | 82 | 2 |
| Colorado State | 83 | 81 | 80 | 2 |
| UConn | 83 | 83 | 80 | 3 |
| Duke | 83 | 84 | 78 | 2 |
| ECU | 83 | 80 | 82 | 2 |
| Eastern Michigan | 77 | 78 | 73 | 1 |
| FIU | 85 | 83 | 82 | 1 |
| Florida | 91 | 84 | 93 | 6 |
| FAU | 60 | 60 | 63 | 1 |
| Florida State | 97 | 92 | 95 | 5 |
| Fresno State | 87 | 89 | 78 | 2 |
| Georgia | 97 | 95 | 91 | 5 |
| Georgia Tech | 87 | 86 | 84 | 4 |
| Hawaii | 79 | 78 | 80 | 2 |
| Houston | 87 | 84 | 86 | 3 |
| Idaho | 65 | 64 | 67 | 1 |
| Illinois | 83 | 81 | 82 | 3 |
| Indiana | 77 | 77 | 76 | 2 |
| Iowa | 91 | 89 | 89 | 4 |
| Iowa State | 83 | 81 | 82 | 2 |
| Kansas | 79 | 80 | 76 | 2 |
| Kansas State | 91 | 92 | 86 | 3 |
| Kent State | 71 | 69 | 74 | 1 |
| Kentucky | 83 | 83 | 80 | 2 |
| LSU | 99 | 92 | 97 | 6 |
| La Tech | 81 | 81 | 78 | 1 |
| Louisville | 87 | 84 | 86 | 3 |
| Marshall | 73 | 75 | 71 | 2 |
| Maryland | 85 | 80 | 87 | 3 |
| Memphis | 61 | 66 | 60 | 1 |
| Miami (FL) | 91 | 88 | 89 | 5 |
| Miami (OH) | 79 | 80 | 74 | 2 |
| Michigan | 97 | 94 | 91 | 6 |
| Michigan State | 93 | 89 | 89 | 4 |
| MTSU | 65 | 70 | 61 | 1 |
| Minnesota | 77 | 75 | 76 | 2 |
| Mississippi State | 87 | 84 | 86 | 3 |
| Missouri | 89 | 89 | 84 | 4 |
| North Carolina State | 91 | 89 | 87 | 3 |
| Navy | 77 | 77 | 76 | 3 |
| Nebraska | 91 | 91 | 87 | 5 |
| Nevada | 83 | 83 | 80 | 3 |
| New Mexico | 65 | 64 | 69 | 1 |
| New Mexico State | 65 | 70 | 60 | 1 |
| North Carolina | 91 | 89 | 87 | 4 |
| North Texas | 69 | 70 | 69 | 1 |
| NIU | 79 | 78 | 76 | 2 |
| Northwestern | 87 | 86 | 84 | 3 |
| Notre Dame | 97 | 94 | 95 | 6 |
| Ohio | 81 | 81 | 80 | 2 |
| Ohio State | 95 | 89 | 95 | 6 |
| Oklahoma | 97 | 95 | 93 | 6 |
| Oklahoma State | 95 | 92 | 91 | 5 |
| Ole Miss | 83 | 81 | 84 | 2 |
| Oregon | 99 | 94 | 95 | 6 |
| Oregon State | 79 | 81 | 76 | 2 |
| Penn State | 89 | 86 | 89 | 5 |
| Pitt | 85 | 89 | 76 | 3 |
| Purdue | 87 | 84 | 84 | 3 |
| Rice | 73 | 75 | 73 | 2 |
| Rutgers | 87 | 83 | 87 | 3 |
| SMU | 89 | 89 | 84 | 3 |
| San Diego State | 83 | 84 | 76 | 3 |
| San Jose | 73 | 75 | 73 | 1 |
| South Carolina | 95 | 92 | 91 | 4 |
| Southern Miss | 83 | 81 | 80 | 2 |
| Stanford | 93 | 91 | 89 | 5 |
| Syracuse | 81 | 83 | 78 | 3 |
| TCU | 93 | 94 | 87 | 5 |
| Temple | 81 | 83 | 78 | 2 |
| Tennessee | 89 | 88 | 84 | 4 |
| Texas | 99 | 91 | 99 | 6 |
| Texas A&M | 93 | 92 | 87 | 4 |
| Texas State | 65 | 67 | 65 | 1 |
| Texas Tech | 87 | 89 | 82 | 3 |
| Toledo | 83 | 81 | 80 | 2 |
| Troy | 73 | 74 | 73 | 2 |
| Tulane | 65 | 69 | 63 | 1 |
| Tulsa | 91 | 89 | 86 | 2 |
| UAB | 65 | 69 | 65 | 1 |
| UCF | 85 | 84 | 82 | 3 |
| UCLA | 87 | 88 | 82 | 2 |
| UL Lafayette | 77 | 81 | 71 | 1 |
| UL Monroe | 69 | 74 | 65 | 1 |
| UMass | 60 | 61 | 61 | 1 |
| UNLV | 63 | 67 | 61 | 2 |
| USC | 99 | 99 | 91 | 6 |
| USF | 81 | 80 | 80 | 3 |
| UTEP | 75 | 74 | 76 | 2 |
| UTSA | 63 | 66 | 63 | 1 |
| Utah | 95 | 92 | 91 | 4 |
| Utah State | 75 | 78 | 73 | 1 |
| Vanderbilt | 77 | 80 | 74 | 2 |
| Virginia | 89 | 88 | 84 | 3 |
| Virginia Tech | 95 | 88 | 99 | 5 |
| Wake Forest | 81 | 84 | 76 | 2 |
| Washington | 93 | 92 | 86 | 4 |
| Washington State | 79 | 83 | 74 | 1 |
| West Virginia | 87 | 91 | 76 | 4 |
| Western Kentucky | 73 | 74 | 73 | 1 |
| Western Michigan | 77 | 78 | 74 | 1 |
| Wisconsin | 99 | 97 | 95 | 5 |
| Wyoming | 79 | 78 | 80 | 2 |